Tejjsons is one of India's most prominent Aluminum Window Manufacturer. We offer a Fine Selection of Windows that make a Sleek and Minimalist Statement in your Space.
High-End, Innovative, and virtually Frameless Aluminum Window Systems That Will Amp Up the Aesthetics of Your Space. 
With Modern looks, Superb Functionality, and Top Robustness – Our Casement Windows will be the Perfect addition to your Home.
Folding and Sliding Doors let in more natural light. It combines the convenience of being indoors with the openness of being outside.
Internal Partitions are primarily framed wall systems which are a popular choice for splitting work areas while keeping the office demands in mind.
India's Leading Minimal Systems Windows & Doors
Keeping in mind the needs of Modern Architecture, we have created Minimal Systems a.k.a. Slimline Windows that offer a breathtaking Panoramic View. Our Minimal Systems offer the uninterrupted movement of light and a maximized sensation of the interiors and outside areas as one by decreasing the number of visible Frames and Tracks! 
We fabricate our Aluminum Windows and doors with one simple philosophy in mind: "Less is more." Our method allows Architects, Engineers, and Interior Designers to generate expansive and uninterrupted views while maximizing engagement with the surrounding environment. The Glass fills the entire surface of the opening from floor to ceiling, giving the onlookers a seamless viewing experience. 
Tejjsons offers wide range of Minimal Systems according to the weight of the Panels. 
PS83
PS137+
PS137+ Flush
PS137 TH
PS137 TH Flush
Make A Statement of Class with Slimline Windows
Slimline Aluminum Windows are extremely popular for large, contemporary entrance doors and balcony windows. The Slim Sliding Windows glide smoothly on their invisible frames making a terrific addition to any contemporary architectural design and really bringing the 'WOW' factor to any space. 
As for our Slimline Doors, they can make up for the most eye-catching methods to personalize your home or office's entryway.  The slim series windows and doors are low maintenance due to their aluminum frames and custom hardware. 
Our Minimal System series provides a variety of high-quality solutions for Sliding Window Systems that are ideal for both the home and commercial offices. Contact Tejjsons today to get a free quote on our Minimal Systems Slimline Windows.
What Tejjsons Minimal Systems Offers
One of the most challenging experiences is renovating or building a new house. You can secure the best solution by educating yourself on Window design possibilities and reliable Window manufacturers. 
The Slim Line Sliding Window has reduced sightlines which provides an attractive outdoors view

From Homes, Offices to Hotels & Villas, our Minimal Systems can be perfectly used anywhere

Hidden Lock Systems with Multi-Lock Points for enhanced Security. 

Low Thresholds that are Completely weatherproof

The Aluminum Sliding Door and Window have exceptional thermal performance

Energy efficient windows with high Sound Insulation 

Maintenance Free Systems that last a lifetime
Aluminium Casement Windows - The High-Performance Choice
Casement windows are normally joined by two or more hinges and thus can be opened inside, outside, or both. These Aluminum Windows come with a structural stopper to keep the windows in places, such as a safety hook or a friction hinge, which is essential on windy days.
Casement Windows are customizable, which means they may be fitted in any manner to suit various architectural styles. Because of the load-bearing capabilities of the windows, Interior designers can experiment with sizes and styles. 
We ensure that each of our Casement windows is fitted carefully to ensure that the structural elements remain intact. Aluminum Casement windows are the most energy efficient since they are easy to open and close. Furthermore, when closed, the aluminum window sash forces itself tightly against the frame, offering improved thermal insulation and resistance to both dust and moisture.
Tejjsons offers 2 systems in Casement Series: 
PS45
PS56
Why choose Tejjsons Casement Windows
We are dedicated to improving your space by bringing World-Class Casement Window Design solutions to your door. Our window experts combine a contemporary style with a one-of-a-kind design to give your home and office a stylish and modern appearance and feel. Our Casement designs are preferred by architects and home décor experts to provide the best finish for your home. As a result, we ensure modern looks, superb functionality, and top robustness to provide you with the best service possible.
Tejjsons believes in offering Aluminum Doors and windows that not only enhance the style quotient of your space but are also constructed to last, from design and manufacture through installation and service. You can trust us to get Aluminum Casement Windows as per your needs. We are renowned Aluminum Window Manufactures in India and provide you with the option of customizing the color, design, and finish of your window to match the décor of your space.
So, when you're looking for durable aluminum casement window suppliers, we invite you to consider us. Tejjsons provides a selection of high-quality Aluminum Casement Windows at the best prices.
Features of Aluminium Casement Windows
Our Aluminum Windows are customizable and can be adapted to your preferred window frame, style, and fit.

They are visually beautiful and very simple to use.

Casement windows are perfect for tall yet confined spaces.

The lock is built into the Aluminum Windows Frames which makes them extremely secure.

Our Casement Windows are extremely energy-efficient since they have a tight seal when closed.

Casement Windows are easier to maintain

When opened, they provide great ventilation and airflow since they open wider than most conventional windows.
Aluminum Slide & Fold Door Solutions
Aluminum Sliding Folding Windows which are also known as Collapsing Stacking Doors, Folding Aluminum Windows, and Folding Doors, are innovative Door solutions that enable unusually large openings, bringing the outside into your space.
Sliding Folding systems are an excellent choice for homes, offices, hotels, or condos. A collection of collapsing sliding Doors can mix spaces together, eliminating boundaries between the inside and outside of your property. 
These Aluminum Windows can bring innovation into a home by transforming rooms into attractive residing areas. This is performed by applying cutting-edge innovation and equipment meant for simple usability and long-term unchanging quality.
Seamless integration, durability, energy efficiency, customization, and exceptional support make Tejjsons the top choice for Slide and Fold systems. 
Why Choose Tejjsons Aluminium Sliding Folding Systems
Firstly, our Slide and Fold systems provide seamless integration between indoor and outdoor spaces, creating a versatile and open environment. They offer a smooth and effortless operation, allowing you to easily expand or enclose spaces as desired.
Secondly, our Slide and Fold products are crafted with meticulous attention to detail and undergo rigorous quality control measures. They are built to last, ensuring long-term durability and reliability.
Additionally, Tejjsons offers a wide range of customizable options for Slide and Fold systems, allowing you to tailor the design, materials, and finishes to suit your specific aesthetic preferences and project requirements.
Moreover, our experienced team at Tejjsons provides comprehensive support throughout the entire process, from consultation to installation. We are committed to delivering exceptional customer service and ensuring your complete satisfaction.
In summary, choosing Slide and Fold from Tejjsons means selecting a high-quality, versatile, energy-efficient, customizable, and supported solution for the seamless integration of indoor and outdoor spaces.
Benefits & Features of Slide & Fold Systems
Simple to use with Seamless operation

Offers a wide Panoramic View

Easy to Maintain

Perfect for use in Homes, Offices, Balconies, verandahs, Villas, Bungalows, and Large Open Spaces

Fabricated using cutting-edge technology

Extremely strong, long-lasting, and weather-resistant

Corrosion and Flexing Resistance

Can be made with any RAL Colour & Finish 

Lightweight, Adaptable, and Long-lasting
Aluminum Partitions - The Right Balance of Design & Privacy
Aluminum Partitions are primarily framed wall systems which are a popular choice for splitting work areas while keeping the office demands in mind. Following current market trends, these Interior Partition Designs provide an elegant aspect to the room in addition to fulfilling its objective.
The system is built up of modules that may be easily installed and subsequently demounted or relocated as needed. Since the Interior Partition Profiles are composed of Aluminum, which gives the wall plenty of durability and corrosion resistance. 
In addition to that, the profiles can be finished with any RAL color to match the existing interiors. Tejjsons offer Aluminum Partition Wall with Slim Profiles to give the space of being bigger than it actually is.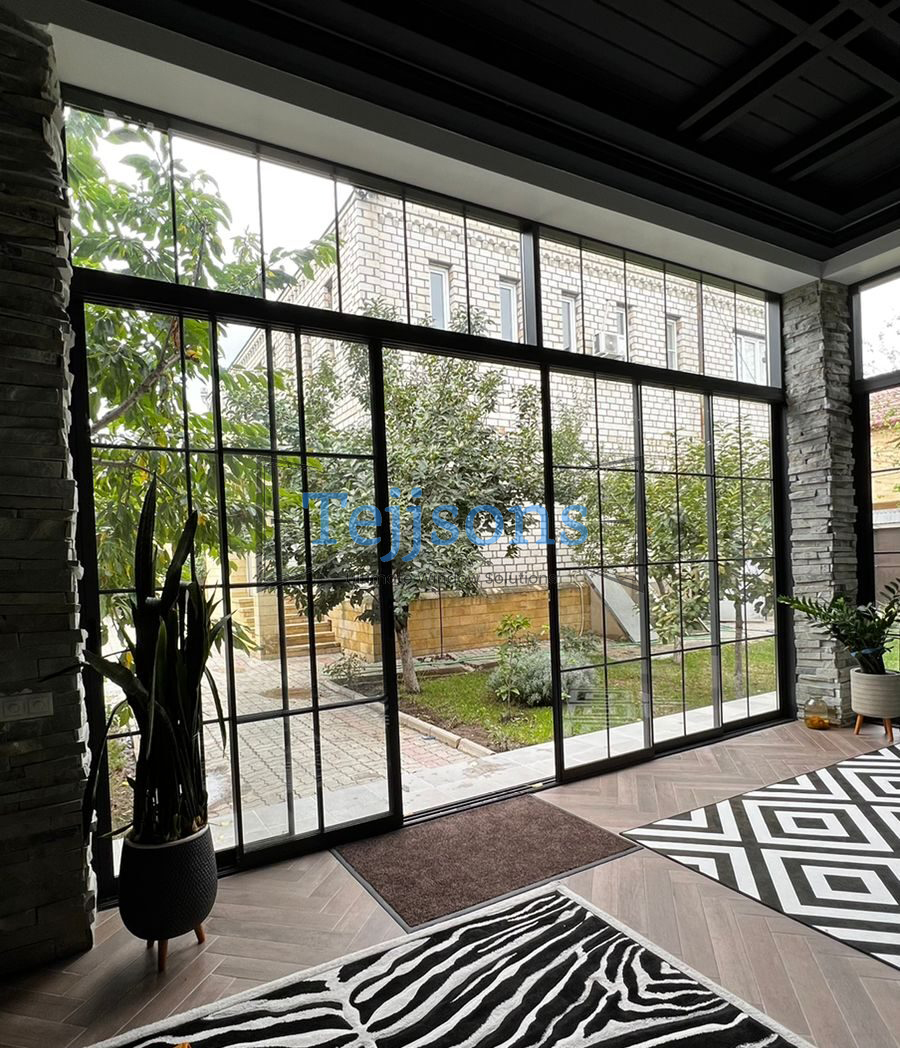 Internal Partitions at Tejjsons
Aluminum Partitions at Tejjsons
Our company is regarded as one of the most prestigious Aluminum Room Partition suppliers. We create aluminum partitions in offices and rooms with the highest care and consideration for our client's needs at the most affordable prices. 
Our Aluminum Frame Solutions are preferred by a large group of Architects, Designers, Engineers, Home Owners, and Project Managers.  We take pride in being one of the leading manufacturers of configurable partitioning solutions for any type of interior project fit-out in the country. Contact us today to learn more about our Aluminum Partition Systems!