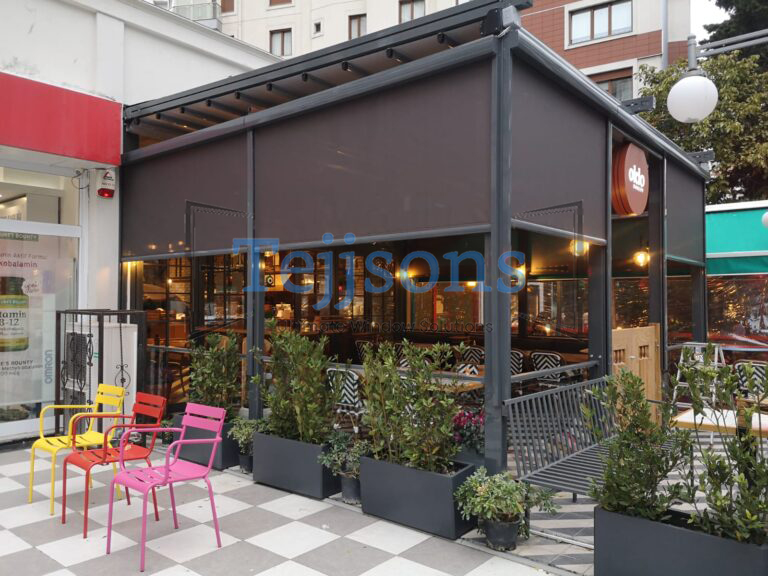 Zip Screens perfectly covers any Balcony, Windows, or Verandahs from the summer heat to the winter chill, allowing you to enjoy open-air living all year.
Experince Outdoors Indoor With Our Zip Screens
Large windows, although beautiful invite in the solar glare, UV rays, and lack of privacy along with the open view. Not to mention, the need of opening them every time you want to let some fresh air in. Well, we have a solution to all these problems – Zip Screens a.k.a Outdoor Blinds. 
Reduce solar heat, improve indoor's temperature and maintain privacy. Our Zipscreens are wind resistant, making them suited for use outside. They are available in motorized operations. Windscreens are ideal for use in Home Windows, Home Verandah, Office Windows, Restaurant & Hotels, Vilas, Patio restaurants, balconies, or any other openings. 
Extend Comfort & Privacy of Home
If you love to let natural air in sans the prying eyes of passersby, you should consider getting outdoor blinds for the balcony. In recent years, Architects & Interior Designers have shifted their focus to moving the indoors outdoors by incorporating outdoor spaces as a vital design future for their home projects. 
Our Zipscreen has the power to unleash your home's untapped potential without the time-consuming hassle and expense of typical repairs. Enhance your area and create an outdoor refuge for true relaxation and comfortable entertainment. Zipscreen perfectly covers any balcony, windows, or verandahs from the summer heat to the winter chill, allowing you to enjoy open-air living all year.
Experience Tejjsons Zip Screen Difference
Tejjsons manufactures Zipscreens with a sturdy and high-quality screen that is extremely easy to care for and maintain. Our Team of Experts has been the driving force behind our technology, developing and refining our Zipscreen's integrated components and setting the standard for innovative external shade solutions.
Furthermore, the screens used for the exterior blinds are moisture repellent, mold-resistant, lets fresh air in, hardly require any maintenance, UV-resistant, and thus resistant to overall all weather conditions. 
Advantages of Zip Screens
High Resistance To Wind

Water Resistant

Insect Resistant 

Sunlight/UV Protection

Privacy at Fingertips

Is controlled electronically

Can Be Created in any RAL Colour & Finish 

An Aesthetic Addition to the Home Decor