Designing commercial spaces can be difficult. These areas are now smartly and creatively built, allowing the people who spend a good eight hours a day in them to do so with pleasure and excitement.
A workplace that has been thoughtfully designed and contains handpicked features can inspire employees and instill in them a greater sense of responsibility and energy that fits the tone of the space.
In that scenario, you could wish to add some grace, gloss, and that perfect professional touch by using the ageless material – glass – in the style of office partitions.
Sounds great, but what could possibly be fascinating about plain glass? You're in luck, then! Because our experts at Tejjsons suggest that switchable glass is the best option over plain glass.
Smart Glass or privacy Glass, is a wonder product with adjustable opacity. Flick that button without a second thought, and it quickly turns transparent or translucent from opaque.
5 Benefits of using Switchable Glass
Privacy
These days' offices often have glass-enclosed rooms or pathways next to them. Co-working spaces are also a current trend in commercial spaces in today's society. It is easy to unintentionally breach one's privacy in such situations.You can quickly resolve this issue with switchable glass partitions.
To keep your room free from the noise and hustle of the outside world, press that button to make the glass frosty.
This function is very helpful for conducting crucial and private conferences and meetings. You get to enjoy the benefits of both worlds: privacy with design continuity and easy access to the rest of the business.
Fuel-Efficient
Maintaining the proper temperature in concert with adequate natural lighting is critical for creating a productive work environment. This is the benefit that switchable glass offers.
Its capacity to change from transparent to translucent contributes to temperature regulation while maintaining the quantity of natural light that enters an area. This may be a smart and environmentally friendly way to maintain the office premises' trend.
Easy Installation
Another of the key benefits of switchable glass partitions lies in their portability. In case you are looking to change the layout of the one already installed in your office, it can be done in a snap! This is possible with our expert technical team and the installation will be done professionally and also very quickly.
Low-Maintenance
They say, "Consistent maintenance is more effective, but it isn't alluring."
In this situation, switchable glass is a savior! It accumulates less dust than regular annealed glass and you can simply clean it with a duster and any glass-cleaning chemical.
Privacy Glass manufactured by us is easy to maintain by cleaning at regular intervals.
Modern Look
A switchable glass divider is what you need if you want your commercial space design to be nothing less than spectacular! Today's commercial spaces must reflect the spirit of the present era and be more welcoming to the younger generation.
Our Switchable glass partitions are modern looking and can easily blend with your interiors, and by installing such partitions in your space, you can give clients, inspection teams, and others the ultimate impression.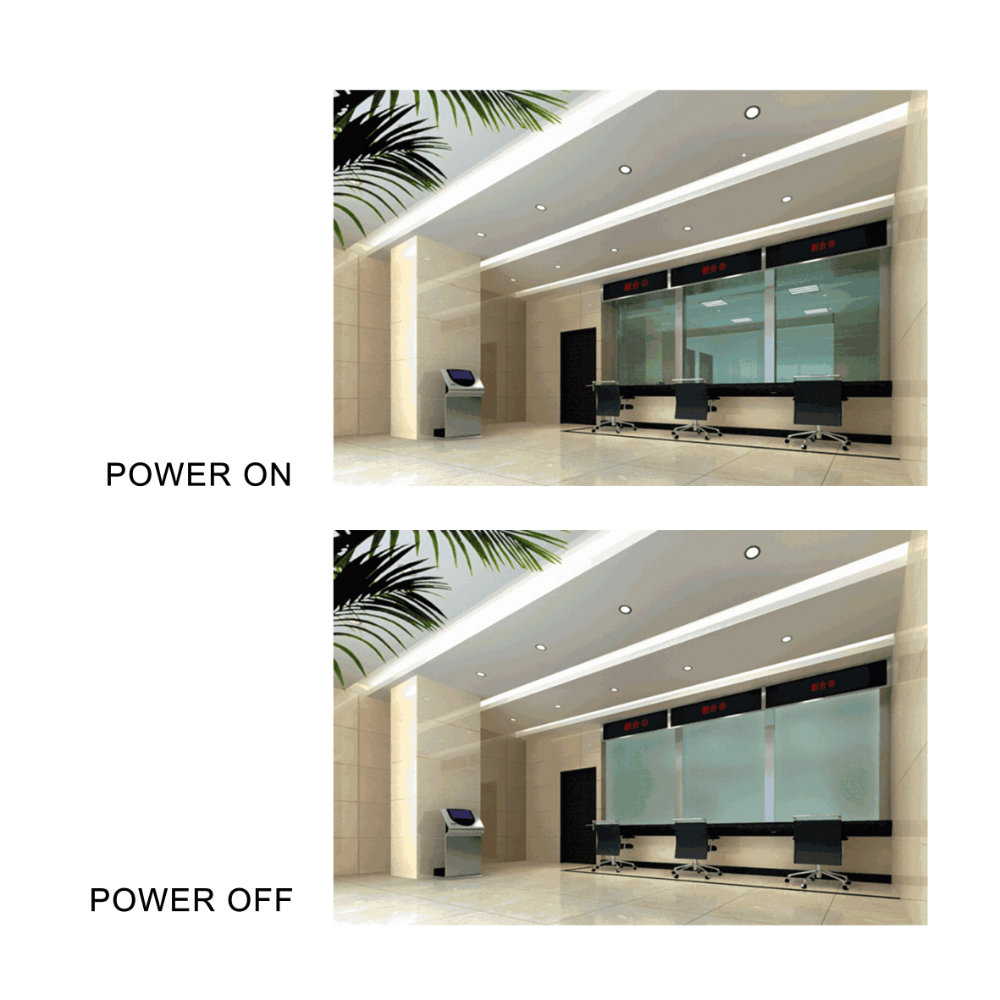 Smart Glass will Add Splendour To Your Commercial Space
Having beautiful, pleasing interiors is essential since commercial space is a kind of home for every employee. Tejjsons is an expert in manufacturing and installing privacy glass. Our Switchable Glass partitions are perfect for use in glass walls and windows in commercial spaces.
You can install our magic glass windows on the interior-facing side of any glass window. With over 20 years of experience in the glass industry, we are able to anticipate the needs of our clients and satisfy them. For those looking for ease, comfort, and privacy in their homes and workplaces, our Smart Glass technology is an obvious choice. To get started give us a call and our experts will get back to you.