It's crucial to protect the inside of your home or workplace from polluted air and nosy neighbors. Although the zip screen is a standard screen system, it gives residences and office buildings a contemporary feel thanks to its urbane technical design. If you want to cover an outdoor space in your home, zip-screen blinds are a terrific option.
These are specially made blinds that leave no gaps, preventing any type of mite from entering. These windscreens can be utilized specifically in exterior spaces like verandas, balconies, and other outdoor spaces that are ideal for hosting visitors.
By covering the verandah with these external blinds, you can create an outside seating space that will shield you from the sun's heat, rain, and harsh weather.
Reasons Why You Need to Get Tejjsons' Zip Screens
Customized Solutions for All Customers
Tejjsons' Zip screen blinds are made-to-order according to the requirements of the customers. This means that instead of settling for some generic off-the-shelf design, you can get the perfect fit, color, design, and material for your outdoor blinds.
Our zip-screen blinds guarantee a precise edge-to-edge fit and ensure there are no gaps. They are perfect for private residences as well as public spaces where you require security and seclusion.
Ensures Protection & Savings
With the help of these Exterior Blinds, you will be able to shield your dwellings and outdoor seating spaces from the sun's rays, pollution, dust, wind, and rain in a number of methods.
By blocking up to 90% of the heat and UV rays that come in through your casement window, a zip-screen outdoor sunshade can limit the amount of unwanted heat that enters your home. It also provides protection from wind.
Zip screen blinds are a great option for your outdoor blinds because of their sturdy construction and long lifespan. Once the blinds are drawn, they can be made to be fully opaque, preventing any light or heat from entering the space.
This can help lower the temperature there and save you money on expensive summertime electricity bills.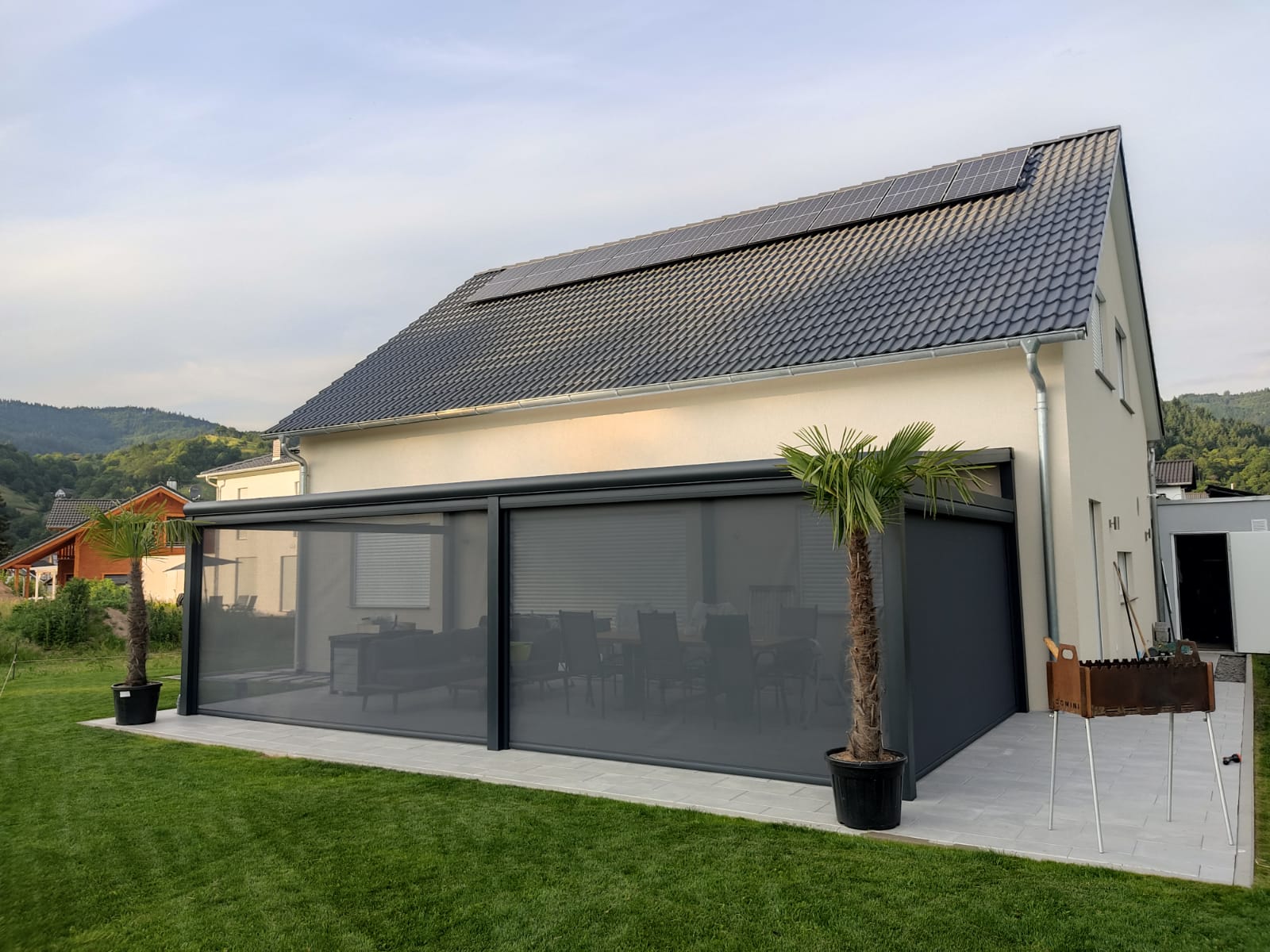 Zip Screens are Easy to Install & use
Regardless of the style of blinds, our outdoor blinds are simple to install, which is one of its best qualities. The motorized Zip Screens are easy to install and enable you to utilize your blinds right away.
When your zip screen blinds are down; you may choose precisely how much privacy you want to have because they come in a variety of transparency designs.
Can be used in many places
Zip screen exterior blinds can be utilized in various settings, but they are most suited for personal patios and verandahs. These blinds are suitable for usage in a wide range of locations: including houses, apartment buildings, and Office Windows.
They are also popularly used in Restaurants & Hotels, Vilas, Patio restaurants, balconies, commercial buildings; and many other locations due to their versatility and availability in a wide range of styles.
Zip screen blinds are so well-liked and a fantastic option for practically any installation because of their versatility.
The guarantee of Privacy
Outdoor Blinds for the Balcony provide the freedom to extend and retract as required. Thus providing privacy when needed without permanently obstructing your view.
It's crucial that you feel secure and safe inside your own property. A zip screen will accomplish that goal while also enhancing the attractiveness of your house.
The Bottom Line
Tejjsons' Zip screen offers a modern style that can easily be incorporated into any home or workplace with ease. They are sleek, fashionable, and durable.
Due to their adaptability, our Zip screens have become one of the most well-liked options among consumers in India. Contact our team right now to get a free quote on the Zipscreen Price!